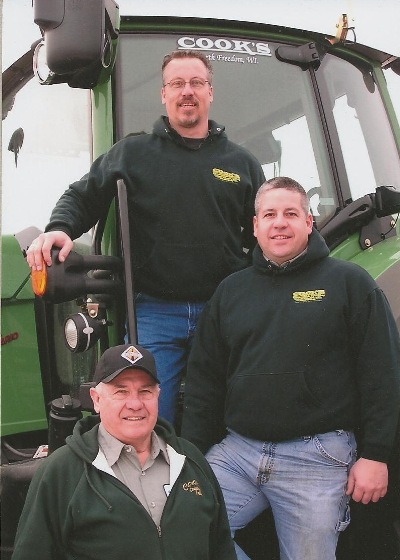 Cook's Countryside Trucking, LLC is a family owned and operated Custom Organic Nutrient Application business, located in South Central Wisconsin. We have proudly been serving the dairy industry since 1943 and providing manure handling services since 1998. As a leader in the manure application industry we strive to do it right the first time. We understand that today's producer cannot afford to have a manure application mistake. That is why hiring a customer applicator that can minimize your risks, is so important.

We have the ability to meet all your manure handling needs from liquids to solids removal with the following equipment: 2 miles of Drag hose with an Aerway, no-till or DMI shank injection, 14 truck mounted tanks, 2 Semi Dump trailers to long haul solids or fiber, Silage and grain hauling, 4 truck mounted slingers, 3 tractor tanks with DMI shank or no-till injectors, 5 bottom load semi tankers, 16,400 gallon self powered Frak Tank, 65ft boom truck pump, props, pumps, fill carts and wheel loader. More semi tankers and drag hose available upon request. All truck spreaders are equipped with flotation tires to reduce field compaction and lids and valves to ensure no spillage during transport. We are fully insured; including a pollution policy.

We are proactive and committed to the ever changing dairy industry. You can count on our dependable service. And all our drivers are certified through the Professional Nutrient Applicators Association of Wisconsin. We make every effort to keep up to date on the current rules and regulations affecting manure applications. All spreading is done to current 590 standards or nutrient management plans.

Our other services are: rental pumps and tanks, custom build spreader trucks, pit design and consultation and Husky Farm Equipment Sales and Service, flat bed, drop deck and detach semi trailer service, from hauling hay from out west to hauling machinery or bunker silo panels. We look forward to servicing your needs. Call 1-877-261 0619 to schedule your next application or to book our semi flatbeds!