Drag Hose Application

We have 2 miles of drag hose available, with more upon request. We can apply directly from your manure storage to the field or we can transport your nutrients to your farthest field or anywhere in between with our semis and tankers and then apply your nutrients from the frak tank.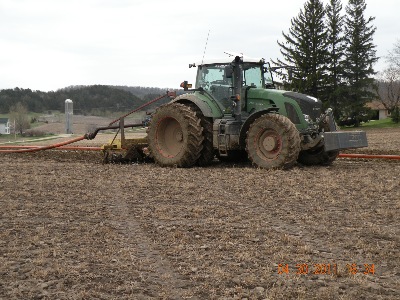 Flatbed Service

We have several Semi and trailers to haul anything from hay to equipment or bunker panels. We haul hay back from out west weekly. Check Brent for rates.

65 foot Boom Pump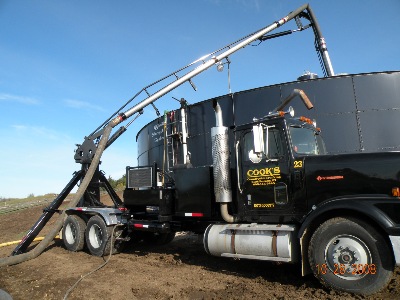 This multi-purpose pump can be used to go over the top of above-ground storage, be used in lagoons and under barn pits. It is also small enough to pump out of a three foot enclosed pit manhole.

Spreaders with or with out Injectors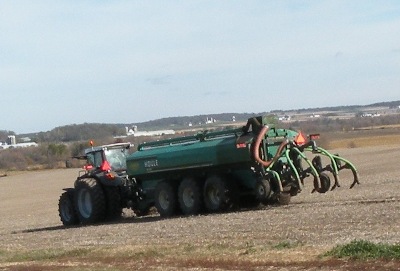 We currently have three spreaders for injecting. One 5000 gallon and two 7300 gallon. You have the option to either inject or broadcast spread. Changing over from injection to broadcast takes just minutes!

We offer four different kinds of injectors:

- DMI chisel point -- this is a tillage pass also while injecting manure!

- Dietrich minimum-till

- 10 inch sweeps

- Aerway

Frak Tank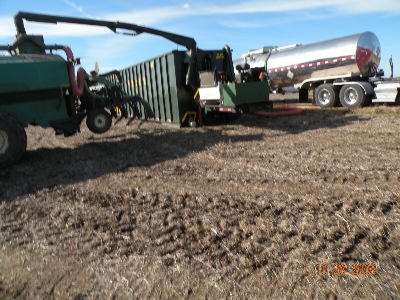 This self contained unit holds 16,500 gallons and requires no tractor to run or transport it. (Transporting is done with a semi tractor.) The frak tank has its own power unit mounted directly to it. We have it set up with two pumps so you can load and unload at the same time. (No waiting for the spreader to get back before you can unload the tanker hauling to the frak tank!) You can also force feed a drag hose system with this unit.

We haul to this unit with semi tankers. Everything is set up with remotes, so there is no running around. All loading of spreaders is done from the operators seat. It requires one person to hook up and unload the semi tankers, and monitor the activities at the tank.

Semi-Tankers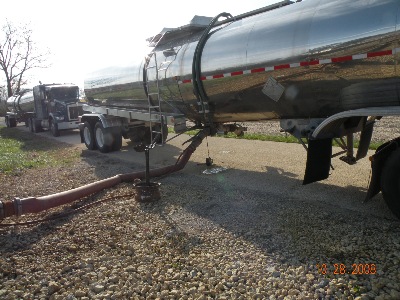 All our units load and unload from the bottom to reduce foam and to ensure a full load. They are also sealed to ensure no spillage during transport. (Keep the neighbors and general public happy!)

Truck-mounted Spreaders with Floatation Tires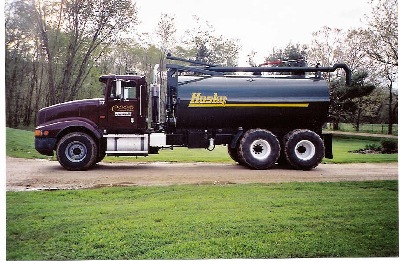 Currently we are running fourteen units. All our truck-mounts have 4000 gallon Husky tanks with floatation tires, to reduce compaction issues. The spreaders have swing booms for transferring loads or higher application rates. They also are equipped with a valve to control spreading, and a lid to ensure no spillage during transport.

Truck-mounted Solids Spreaders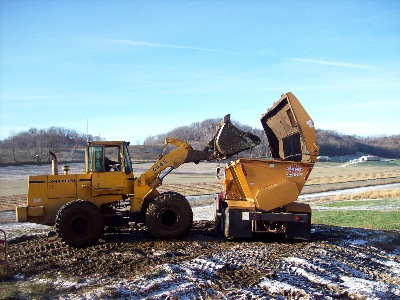 Currently we are running four units. All our truck-mounts are Knight 8124 Slinger spreaders. This size was chosen due to the capacity and weight restrictions. All are equipped with floatation tires, to reduce compaction issues. We haul sand, semi-solids, solids and sludge with these units. We have a rental loader available for use with these units also.